Partial or Full Restoration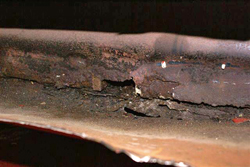 Whatever your requirements are regarding the renovation of your car, we can supply.
This core activity encompasses all aspects of restoration, and could include, amongst others:
Steel work
aluminium work
re-wiring electrically
engine rebuilding
suspension Renovation
Brake overhaul
paintwork
Interior trim including carpets and headlining
Chroming
New wheels and tyres
New glass and windscreens
Axle, gearbox & propshaft overhaul
An estimate of costs would then be prepared after a thorough inspection and a detailed discussion with the client of his requirements.
These may range from a standard rebuild of the original car to specialist preparation aimed at developing the car for racing or historic rallying or indeed preparation for concours d'elegance.