Accident Repairs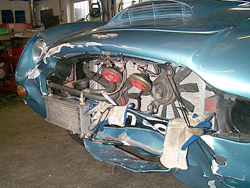 In the unfortunate event of an accident, Goldsmith and Young are here to help out.
Our services range from collecting the damaged car, wherever it is in Europe, and bringing it back to our workshop for detailed inspection.
We can then prepare an estimate of costs for the insurance company, if required, and negotiate a price with them that is both realistic and fair to all parties.
As most of our specialist services are "in house" this means we can offer a "one stop shop" for the repair of your pride and joy back to its former glory.