Specialist Machining and Welding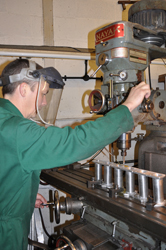 Machining and fabrication work is an essential part of any restoration.
Goldsmith and Young has a small but efficient machine shop capable of undertaking most tasks required to prepare your classic Aston for the road and track.
We have developed techniques for saving those potentially irrecoverable situations.
Specialist machining operations could include.
Unleaded cylinder head conversions
Lightened clutch and flywheel conversions for racing
Machining reconditioned castings such as water pumps and sumps
Specialist machining work for racing or rallying
Helicoil inserts for cylinder blocks
Specialist machining for 4.2or 4.5 litre 6 cylinder engines
Cylinder head porting to improve gas flow
Water pump and exhaust porting
Specialist fabrication and welding for uprated exhaust systems