Servicing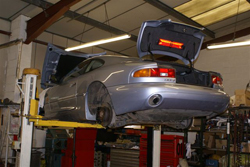 Once your car has been restored, we will be happy to continue to look after it and carry out the routine servicing required to keep your car in top condition.
We will also keep you advised of the development of any upgrades or modifications that will improve the efficiency or handling of your car.
Our computerised servicing schedule will ensure that your car is inspected at least once a year.
As many cars do not do many miles per annum it is important that they are serviced frequently enough to keep it reliable. Low mileage cars often suffer from battery and exhaust problems which affect their reliability.