News & Publicity
Spa Francorchamps Reflections: September 2009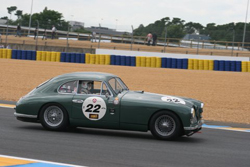 Goldsmith and Young ran four cars at the recent Spa Franchorchamps 6 Hours Race meeting in Belgium at the end of September.
The Shelby Mustang was entered in the 6 hours race itself, driven by owner Tarek Mahmoud and co drivers Greg Audi from Paris and brother Galal from Beirut. Support races saw Tareks' DB2 entered in the Woodcote Trophy 1 Hour race and Galal's E Type Jaguar in the Masters 2 Hour Endurance race.
John and Gillian Goldsmith entered their newly acquired 1965 Mustang Notch Back in the Masters 1 hour race and in Barry Sidery-Smiths British Sports Car Race.
I am glad to be able to report that the Shelby finished 39th overall in the 6 hour race from over 100 starters – a very credible effort from all concerned for a first attempt with this car. The car ran faultlessly during the race but upon examination in the workshop post race, was found to have a cracked front disc and leaking caliper seals due to heat. This is an illustration of the demand put on these old 1960's cars over 6 Hours of hard racing!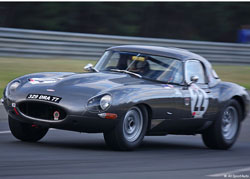 The faithful DB2 (the well known ex Jean Bloxham grein car DSK 154) finished its race well with Mahmoud brothers at the wheel. It had only just completed the demanding Gstaad Rally a couple of weeks before, so we were pleased with its faultless run and good result in the race itself.
It was also pleasing to round off the meeting with a fine drive in the two hours endurance race by Galal Mahmoud and Greg Audi in Galal's E type – despite an early gear selection problem which lost some time early in the race unfortunately.
The good results achieved by the clients' cars were sadly marred by an unfortunate accident of the Goldsmith and Young Mustang on lap one of the Masters race. Fortunately Gillian Goldsmith was not hurt in the incident close to Pouhon Corner.
Sadly the car was badly damaged with the chassis bent and the steering box was broken and had to be withdrawn from further participation of the race meeting. However it will be repaired and will appear again next season!