News Archive
2012
Racing has yet again been a highlight of this year, some of the brilliant moments have been recorded on video. Below is a perfect example, with a battle in two DB4 GT's.
Here is a link of a video of Gillian Goldsmith in an Aston Martin DB4 GT racing Tarek Mahmoud in his DB4 GT.
We also appeared at this years historic festival at Spa Francorchamps, with the DB6 racer and Shelby GT350.
2010
It is some while since we updated this section of our site so I thought I'd bring you all up to date with some of the recent happenings at G&Y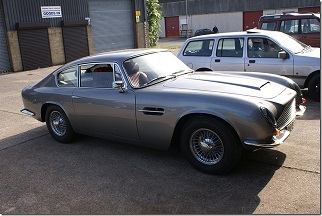 2010 proved to be a year of consolidation here as the economic pressures and change of government took their toll. Our racing activities continued much as agreed but we also took the opportunity to progress some of our longer term projects. This took the form of completing a full restoration on a very nice DB6 MK2 saloon for a customer based in Monaco. This car was found in South Wales back in 2007 and was completely restored here.
We continued our work on the Bertone bodied 1953 Aston Martin, which has now been completed and sold at the 2011 Bonhams Festival of speed auction. We are also progressing the work on both a DB4 GT and a DB4 GT Zagato for a customer.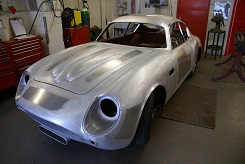 Current projects in 2011 include a full restoration on two DB5 saloons and one DB5 convertible, plus a most interesting project to turn a DB6 saloon, needing full restoration into a short chassis volante. This makes commercial sense if you have a DB6 saloon donor car needing full restoration. We are also planning to do a DB4 convertible in the latter part of 2011 – this car will be for sale in due course.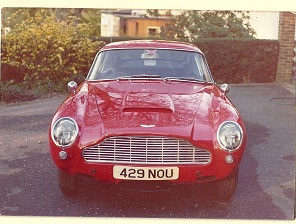 One interesting commission has been the arrival of John's first ever Aston Martin that he owned from 1973-1986. This car was sold by John in 1986 to help fund Goldsmith and Young and it was great fun to have it back in 2010 after so many years. The car is a rare series V DB4 that was originally fitted with a GT12 plug head at the factory in period – they did 6 or 7 of these cars. When John had it, it was fiesta red but is now green and looking very smart having come back to the UK from America where it had been in a museum. Some of Johns 1970's modifications were still on the car!!
Spa Francorchamps - September 2009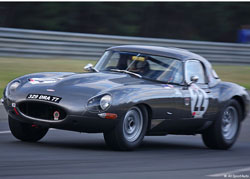 Team Goldsmith and Young will be supporting several cars at the 6-hour race meeting at Spa Francorchamps in the scenic Belgium Ardennes which starts on 24 September 2009.
We are running a Shelby GT350 Mustang in the 6-hour race itself (Shelby Chassis Number S349 for those with detailed interest!). The car will be driven by the Lebanese brothers Tarek and Galal Mahmoud and Parisien dentist and rapid racing driver, Greg Audi.
A 1965 notch back Mustang will be driven by John and Gillian Goldsmith in the Masters Series and in the Barry Sidery-Smith British Sports Cars and GT race. This car was bought in from the States last year and is an ex drag racing car that has been converted by G and Y to circuit race specification.
This will be its first ever circuit race. We could not think of a better place for it to make its debut but on one of the world's most exciting Formula One race tracks!
Galal Mahmoud and Greg Audi will also drive Galal's E type Jaguar in the Masters Gentleman Drivers two hour race late on the Sunday afternoon, whilst Tarek will campaign his Aston Martin DB2 in the Woodcote Trophy for an hour earlier in the day.
It is an exciting weekend and will see the G and Y team at full stretch keeping all four cars up and running. Let's hope for some good results and some good weather.
Results and photographs will be published on our return - watch this space!"
Plans for 2009
2009 sees Goldsmith and Young race again at the forefront of Aston Martin activity.
Goldsmith and Young prepared cars have been entered in the gruelling Tour Auto, where over 200 cars battled it our in Northern France and Belgium over 5 days in late April. Both Goldsmith and Young cars finished well in the top 30.
John Goldsmith is doing several co drives this year with owner drivers Tarek and Galal Mahmoud in their Shelby GT350 Mustang and Low Drag E-Type Jaguar in the Masters Series.
The Goldsmith and Young prepared burgundy Aston Martin DB4 GT – Reg No. 5000 HJ will be competing in the Classic Silverstone race meeting at the end of July, the drivers will be John and Gillian Goldsmith.
Goldsmith and Young will be racing four or five cars at the 6 hour race meeting at Spa Francorchamps in Belgium in late September. These will include a Shelby GT 350 in the 6 hour race and John's own lightweight DB6 in a support race.
We branch out into the preparation and race support for other historic racing cars. These include a Shelby GT350 Mustang, and E Type Jaguar, a Lotus Cortina and Mercedes 190SL. It is intended to grow this sector of the business and yet maintain the standards required to ensure reliability and safety.
If you own and race another historic or classic car and wish to become part of a well known and recognised team – why not contact us to discuss your requirements?
2008
Goldsmith & Young continued to support both AMOC and other racing activities in 2008.
We are finishing the race preparation of our Aston Martin V8 to F.I.A. specification as well as racing our well known lightweight DB6 at AMOC events.
We intend to race our MK2 Lotus Cortina again in 2008 – primarily because our daughter Samantha is now able to drive and wants to go racing like her Mum!
2007
Goldsmith and Young had a busy year in 2007 – supporting and/or competing in races as far afield as Laguna Seca in California (with DB4GT) and Spa (with DB6 lightweight).
At Laguna Seca the DB4GT was fitted with a camera and footage taken was used in the Alexander Davidis film "GT Racer" which is currently being shown periodically on Dave TV in the Uk.
GT Racer Trailer (links to external site opens a new browser window)
A John Galt Films production. Directed by Alexander Davidis